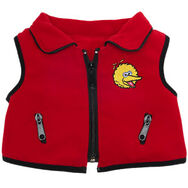 Sesame Street is a TV Show that aired in 1969. Jim Henson designed the puppets used in the show. From 2004 to 2006, you could make a plush of 3 different characters from the show, each with a vest and sound chip.
Big Bird
Edit
Voiced by Caroll Spinney. He is the largest Muppet on the show. His sound chip says "Hi, it's me! Big Bird!" "I'm so happy that we're friends." "Let's play!" and "You're so special."
Cookie Monster
Edit
Voiced by Frank Oz. He loves to eat vegetables, fruits and mostly cookies. His sound chip says "Yum! Yum! Yum! Cookie! Oh, so yummy!", "Me love cookies!", "Me so glad to see you!", and "Oh, me love you!"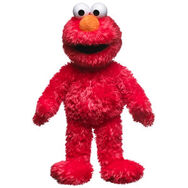 Voiced by Kevin Clash. He is so popular, he even gets his own mini show at the end of every episode! His sound chip says "Hi, it's Elmo!", "Elmo wants a hug!", "Aw, you're Elmo's friend!", and "Elmo loves you!". Elmo was the first Sesame Street muppet featured at Build-a-Bear Workshop