Smallfrys are bears similar to the classic Build-a-Bear Workshop stuffed bears but only with a smaller body and big head. The common size for a bear is somewhere 15" to 20" but a Smallfry is only 7" . They ran out because of exposing NSFW topics to children, the high appeal to furries, etc.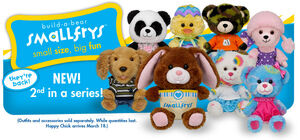 Cinnamon Swirl Bunny
Endless Hugs Teddy
Fabulous Frog
Marble Monkey
Peace & Hugs Bear
Read Teddy
Sassy Kitty
Shaggy Pup I
Happy Chick
Vanilla Fudge Bunny
Pawsome Panda
Summer Hugs Bear
Golden Retriever
Pink Poodle I
Camo Bear
Huggable Bunny
Peace & Friendship Bear
Enchanted Dragon
Hip Hippo
Penguin
Cool Kitty
Curly Bunny
Pink Monkey
Colourful Hearts Teddy
Peace & Smiles Teddy
Autumn Hugs Teddy
Fuzzy Koala
Endless Hearts Teddy
Blue Tiger
Green Leopard
Purple Girraffe
Pink Zebra
Tabby Kitty
Peace & Hearts Bear
Elephant
Pink Hearts Teddy
Pink Bunny
Champ I
Happy Hugs Teddy I
Fuzzy Lamb
Blossom Bunny
Cow
Pig
Mint Chip Bear
Orange Sherbet Bear
Bubblegum Bear
Hot Fudge Sundae Bear
Vanilla Cream Bunny
Cheerful Monkey
Rainbow Swirl Bear
Calico Cat
Pink Poodle II
Lil' Bunny Big Ears
Love Bug
Friendly Frog
Blue Camo Bear
Confetti Cupcake Bear
Furever Hearts Bear
Fuzzy Duck
Cuddly Puppy
Cuddly Lamb
Shaggy Pup II
Chocolate Labrador
Chocolate Bunny
Citrus Bunny
I Heart You Teddy Blue
I Heart You Teddy Pink
Pawfectly Pink Flamingo
Oodles Of Fun Octopus
Beach Bear
Travelin' Sea Turtle
I Heart NY Bear
Libearty Bear
Fennec Fox
Raccoon
Hedgehog
Parrot
Happy Hugs Teddy II
Sock Monkey
Clydesdale
Rockin Red Cardinal
Clever Fox
Pink Pal Owl
Smilely Skunk
Tropicolor Teddy
Peace & Love Bear
Chococat
Pink Flower Hello Kitty
Tropical Hello Kitty
Sunny Hello Kitty
Purple Hello Kitty I
Purple Hello Kitty II
Pink Hello Kitty
Red Hello Kitty
Wolf
Cheetah
Lion
Pudsey
Blush
Mighty Bear
Golden Pup
Human Boy
Human Girl
Black Cat
Ghost
Frightfully Fun Girl
Mr. Monster
Merry Mint Pup
night cat
sprinkle cookie cat
a glow bunny
Toad
Piranha Plant
Official Site Blueberry
Community content is available under
CC-BY-SA
unless otherwise noted.