The Snow Hugs Teddy Bear was available in Build-a-Bear Workshop on August 10th, 2010 . The size is 16 inch which is the typical size of a stuffed animal from Build-a-Bear.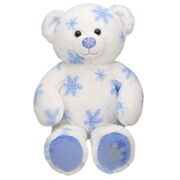 Its own appearance is Fair Isle Style Snow Hugs Teddy which comes with
Fair Isle Sweater, Fair Isle Boots, Fair Isle Scarf and Head Set.
External Links
Edit